[vc_row]
[vc_column width="1/3″][vc_column_text]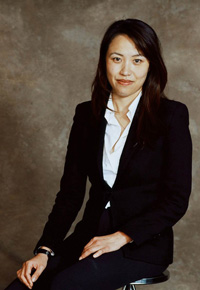 [/vc_column_text][/vc_column]
[vc_column width="2/3″][vc_column_text]
Liz Leung is a founding partner of Lumsden Leung design studio (L2ds) in Hong Kong and has 25 years of building and interior design experience. She participates significantly in every project L2ds undertakes. Liz has a master's degree from Harvard University's Graduate School of Design.
Before founding L2ds more than 10 years ago, Liz developed a reputation for her strong design capability as the youngest Deputy Director of Design for the well established architectural firm Wong Tung and Partners in Hong Kong. While there, she developed a reputation not only for her creativity and design flare, but also for her superb organizational skills and energetic work attitude. Liz also prides herself as being a motivating team leader.  She strongly believes that an excellent building is the result of an excellent group of people.
Liz's strength in providing a design's conceptual direction has resulted in winning numerous international architecture competitions and projects including the Dragon Airline Headquarters, the Wuxi Shangri-la Hotel and Resort, the Beijing Central Park Residential Development and the Hong Kong Movie City Headquarters.
Her practical experience as a designer has spanned a wide range of market sectors and building types including corporate headquarters, landmark office towers, large-scale mixed-use complexes, residential high rise towers, sports stadium and complexes, flagship hotel complexes and urban master plans.
Miss Leung's work has been exhibited in The Royal Academy of Arts in London, Hong Kong Chapter AIA Annual Exhibition and the Harvard GSD Overseas Design Exhibition.
[/vc_column_text][/vc_column]
[/vc_row]
---
Back to projects
[vc_recent_works columns="4″ amount="" category=""]